CONTINENTAL GT V8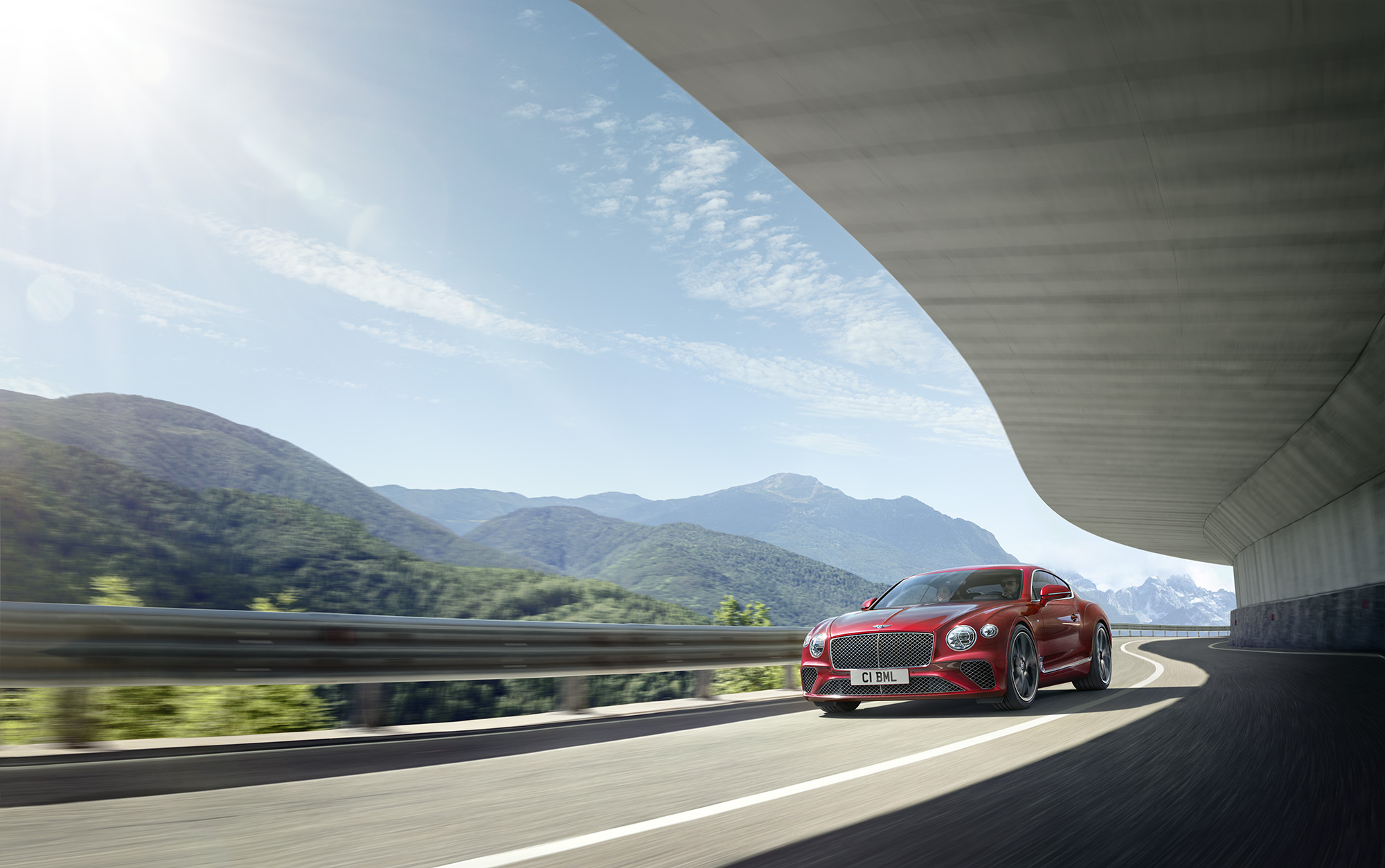 With a lively V8 engine delivering irresistibly dynamic performance, accompanied by the sound of its uniquely emotive burble, the Bentley Continental GT V8 offers a truly engaging driving experience. Combine this with elegant design, contemporary craftsmanship and seamless technology, and you have a grand tourer that makes every journey breathtaking.
A dynamic look
This stunning car takes the sharp, superformed lines of the Continental GT and adds sleek contemporary details that reflect its agile performance.
Elliptical quad tailpipes hint at the potent engine sound, while a discreet V8 badge placed on the fender speaks to the exciting drive to come. Striking 20" ten-spoke painted alloy wheels, available only for the Continental GT V8 coupé and convertible, have the spokes arranged in symmetrical pairs to make the already dynamic profile even more dramatic.
A contemporary feel
Inside the car, a single hide colour is used throughout for a look that combines elegance with simplicity. You can choose from five exquisite colours, including Beluga and Cricket Ball – if you wish to explore a wider range of options, or add a secondary colour, there are, of course, many ways to personalise your car - read below to explore more.
The hides are complemented perfectly by the contemporary Crown Cut Walnut veneer as standard, sustainably sourced from the American Black Walnut tree. A further range of optional veneers includes stunning open pore or Mulliner veneers, and any veneer can be enhanced by adding a sleek Chrome Pin Stripe.
Exquisite touches
A carefully curated selection of options enhance the exquisite level of detail still further. The Front Seat Comfort Specification adds exceptional versatility to the seat position, as well as heated armrests and a wealth of massage and ventilation functions, while the Mulliner Driving Specification introduces elements with a sleek, sporting style – including a diamond-in-diamond quilt pattern, sports pedals and a choice of four striking wheel designs.
Sheer acceleration
Discover a truly captivating driving experience. With twin-scroll turbochargers located inside the V of the engine, the Continental GT V8 is exceptionally responsive, delivering breathtaking acceleration accompanied by the irresistible sound of a Bentley V8 engine unleashing its immense power – which is especially intense in Sport mode.
The result is a car that can accelerate from 0 to 60 mph in 3.9 seconds (0 to 100 km/h in 4.0 seconds) and take you to a top speed of 198 mph (318 km/h).
Completely engaging
This is a car that delivers impressive control. Considerably lighter than the previous Continental GT V8, its superlatively balanced weight distribution enhances traction and stability as you accelerate.
A passive chassis with a preset balance between ride comfort and handling ensures exceptionally confident cornering, or for truly exquisite control you can opt for Bentley Dynamic Ride, an innovative 48V Electronic Active Roll Control system that continuously monitors the road conditions and adjusts the anti-roll bars to reduce body movement, optimising both handling and ride comfort in any situation. Whichever you choose, you'll enjoy an astonishingly animated drive that keeps you completely in touch with the road.
Stop just as effortlessly as you accelerate with optional Carbon Ceramic brakes with black or optional red callipers.