CONTINENTAL GTC V8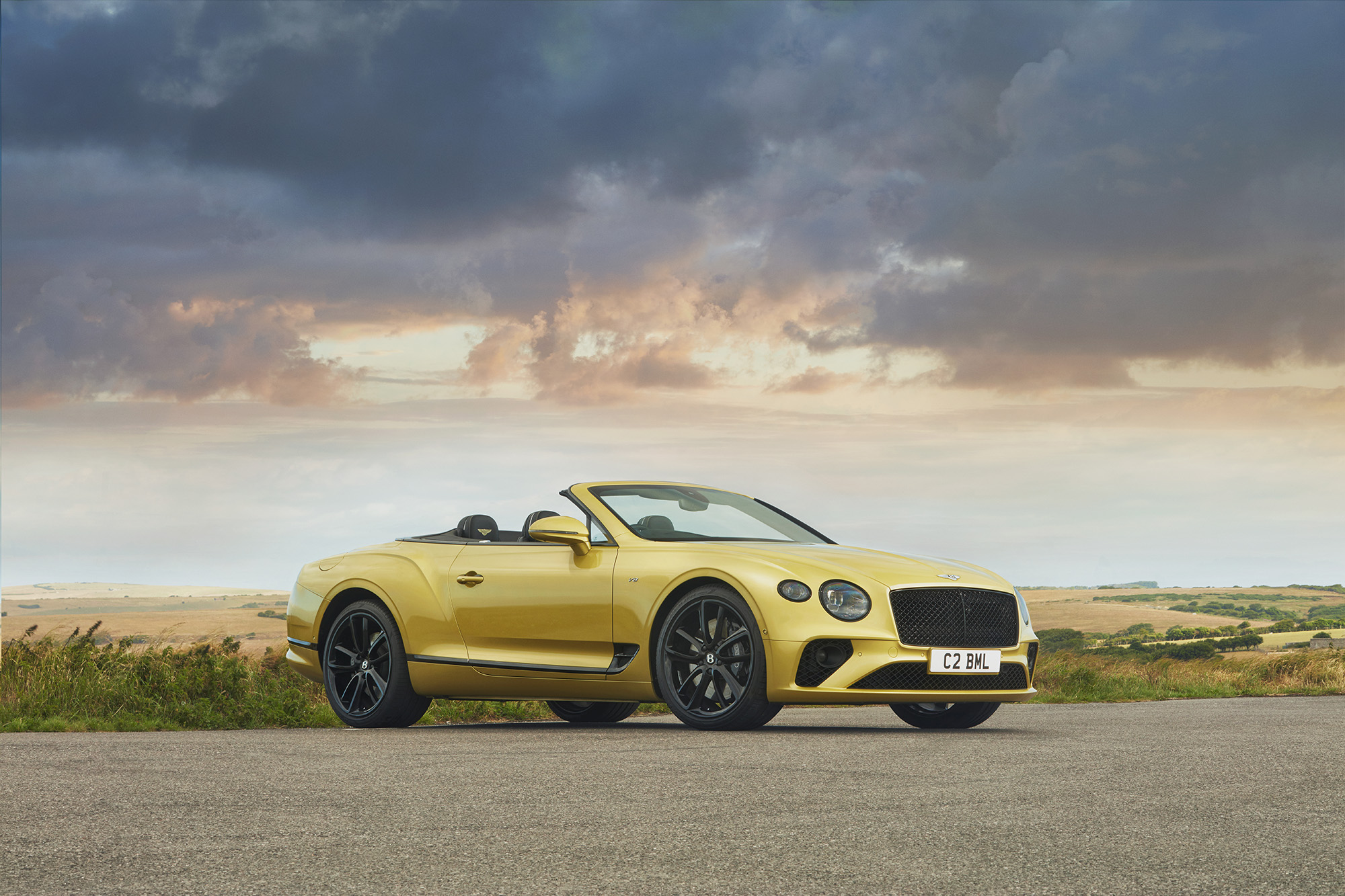 With the Bentley Continental GTC V8 , open-air grand touring is always exhilarating. With a spirited V8 engine, innovative technology, sleek, contemporary design and exquisite attention to detail, you are both completely in touch with the road beneath you and fully connected to the world around you.
Flowing lines
This Bentley V8 convertible is designed to be equally stylish with the roof open or closed. When the roof is up, it merges seamlessly with the streamlined body to form a silhouette that looks inspired in any landscape. As the roof lowers, it is stowed compactly to allow a single beautiful design line to emerge from the side panels and sweep around the rear seats in one fluid movement.
Exquisite style
The stunning looks continue on the inside. Whether the roof is up or down, you are cocooned in refined comfort, with a single hide colour, from a choice of five colours as standard, used throughout the cabin to create an inviting space. A contemporary Crown Cut Walnut veneer, sustainably sourced from Black Walnut trees on the Eastern side of North America, completes the interior in style.
You can choose from a range of optional veneers, including open pore Koa, Crown Cut Walnut and Dark Burr Walnut, and Mulliner veneers or Dual Veneers. An extended range of hide colours is available, with the option to add a secondary colour.
A dynamic drive
The Continental GT V8 Convertible is exceptionally responsive, with astonishing powers of acceleration that can take you from 0 to 60 mph in 4.0 seconds (0 to 100 km/h in 4.1 seconds) and on to a top speed of 198 mph (318 km/h).
You won't just feel the power of this remarkable car as you accelerate, you'll hear it too, with the gratifying burble of the Bentley V8 engine particularly rewarding when the roof is down.
Powerful acceleration is matched by the immense stopping capability of optional Carbon Ceramic Brakes in black or optional red, aerospace techology artfully applied to enhance your drive.
Choose your mode
Four Bentley driving modes allow you to adjust chassis and drivetrain settings to suit the road beneath you. The Comfort mode offers a refined ride that makes every journey a pleasure, the Bentley mode delivers the perfect balance between performance and refinement and the Custom mode allows you to calibrate the settings precisely as you like them.
But it is the Sport mode that fully celebrates the capabilities of the V8 engine, maximising responsiveness as well as accentuating the distinctive engine sound.
Open-air ingenuity
A wealth of innovative features enhance the pleasure of convertible grand touring even further. The roof can open or close at speeds of up to 30 mph (50 km/h) and does so faster than ever before.
Ventilated seats make summer driving extra pleasurable, while a heated armrest, heated steering wheel and discreet neck warmers encourage you to keep the roof down on cooler days. When you wish to feel more enclosed, the four-layer roof has been engineered to keep you as insulated as a Bentley GT coupé.
Designed to be driven
The exuberant performance of the Continental GT V8 Convertible is made possible by a range of intelligent driver technology. Active All-Wheel Drive gives you total confidence whatever route you take, while eight-speed dual-clutch transmission provides supremely quick gear changes that enhance the engaging driving experience.
Adaptive cruise control uses long-range radar to maintain your distance from the car in front, and a suite of driver assistance systems help to make even the longest journey a pleasure.
Well connected
Intuitive My Bentley technology makes the journey smarter, safer and more convenient. Services include Apple CarPlay®, which lets you control your iPhone® through the car's systems, and Satellite maps, which allows the navigation to display a photorealistic landscape. Private eCall alerts emergency services in a critical situation, while remote features, such as Lock my car, can be accessed through the My Bentley app. Other time-saving features, such as My car status, display information on your phone about everything from fuel level to your maintenance schedule.
Apple CarPlay and iPhone are registered trademarks of Apple Inc.