CONTINENTAL GT SPEED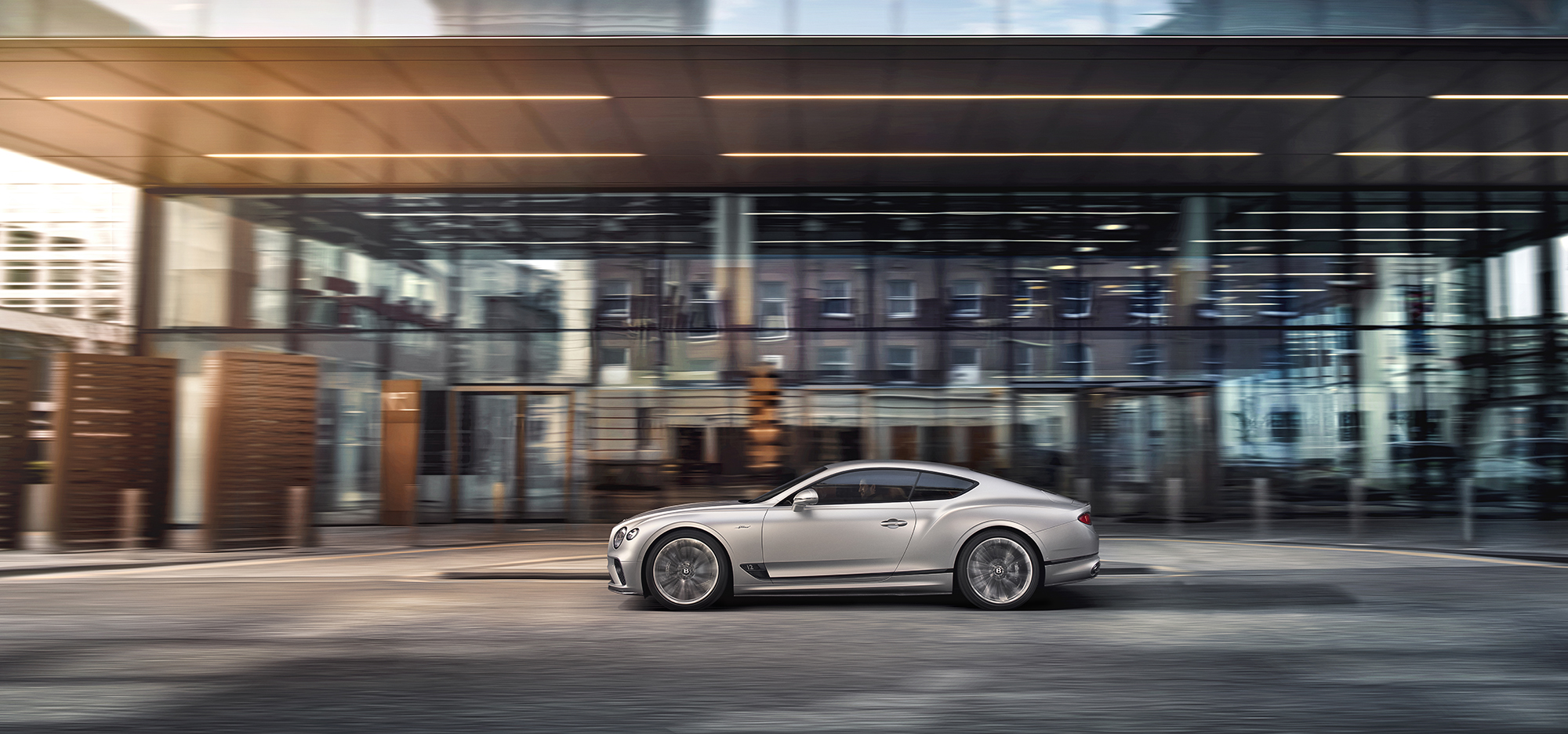 The new Bentley Continental GT Speed is a grand tourer that harnesses raw emotion. In each revolution of its W12 engine, and within every crafted detail, is an incredible power that puts immense thrill and drama at the heart of the drive.
Its uniquely calibrated powertrain combines with state-of-the-art chassis systems to add sheer joy to every moment of your journey. Its sleek, aerodynamic surfaces are enhanced with bold and irresistible design details that dial up the excitement to emphasise its status as the most powerful Bentley grand tourer, one that elevates performance above all else.
This is adrenaline, accelerated.
Immense joy. Immense power.
The Continental GT Speed is designed to inject your life with a pure rush of adrenaline. Its formidable W12 engine has been tuned to a unique Speed calibration that puts unprecedented power in your hands. This delivers astonishing performance that takes you from 0 to 60 mph in just 3.5 seconds (0 to 100 km/h in 3.6 seconds) and achieves a top speed of 208 mph (335 km/h).
Incredibly agile
The Continental GT Speed's sheer power is enhanced with an innovative suite of technologies that let you get lost in the pleasure of the drive. Breathtaking levels of agility are made possible by the introduction of Electronic All-Wheel Steering alongside Torque Vectoring by Electronic Limited Slip Differential (eLSD). And these combine with the Bentley Dynamic Ride electric active roll control system, to give you the stability you need when tackling even the most dramatic of corners.
Optional lightweight, high-performance Carbon Ceramic brakes offer incredible stopping power time and time again.
Thrill mode, engaged
Switch into Sport driving mode and this GT's true character is unleashed. Specially calibrated to ensure the engine responds incredibly rapidly to the driver's needs, by upshifting later when accelerating and downshifting earlier when decelerating, it delivers exhilaration. The transmission shifting is also lightning-fast – quicker than in any other Bentley – to enhance that responsiveness still further. The result? The ultimate feeling of control.
A bold presence
An exhilarating exterior design ensures that the Continental GT Speed's impressive function is matched by compelling form. Each bold detail hints at the power within; a Dark Tint Grille, Speed Outer Sill and striking forged Speed 22" wheels – available in your choice of a Silver Painted, Black Painted or Dark Tint finish – create a moody and aggressive look.
Exclusive and luxurious features such as Speed badging, illuminated treadplates, and Jewel Fuel and Oil Filler Caps add a flash of metallic silver to the exterior, demonstrating how no opportunity has been missed to create a flawless grand tourer.
A dramatic interior
The drama continues within. Embroidered Speed headrests, Speed badging, and a heated Alcantara steering wheel are just some of the exclusive and luxurious details that immerse you in the thrill of the drive – and with the Mulliner Driving Specification as standard, extra touches such as diamond-in-diamond quilting and Sports Pedals show that luxury can be found in every surface.
A highly desirable colour combination in a Hide and Alcantara mix is available only on the Speed, which allows you to combine these contrasting fabrics and their textures to produce a unique and luxurious surface across the seating. You can also add contrast stitching and an optional Carbon Fascia to create an environment in which new heights of driving joy can be achieved.
Bentley rotating display
Art meets science meets magic. And the result is breathtaking. The optional Bentley Rotating Display lets you choose from three stunning displays: a polished piece of veneer, a touchscreen infotainment display, or three diamond-knurled analogue gauges that create a more classic aesthetic. The choice is yours.
The latest innovations
The Touring Specification equips your Continental GT Speed with every innovation you'll need on your unique and varied journeys. Active Lane Assist, Adaptive Cruise Control, Night Vision and a Head Up Display ensure that every adventure is embarked on with the ease and safety that you expect from a luxury grand tourer.
Feel the Sound
Discover a hi-fidelity sound that was made to give you goosebumps with the optional Naim for Bentley sound system, which gives you aclass-leading 2200W of power channelled through 18 speakers and 2 shakers.