CONTINENTAL GTC SPEED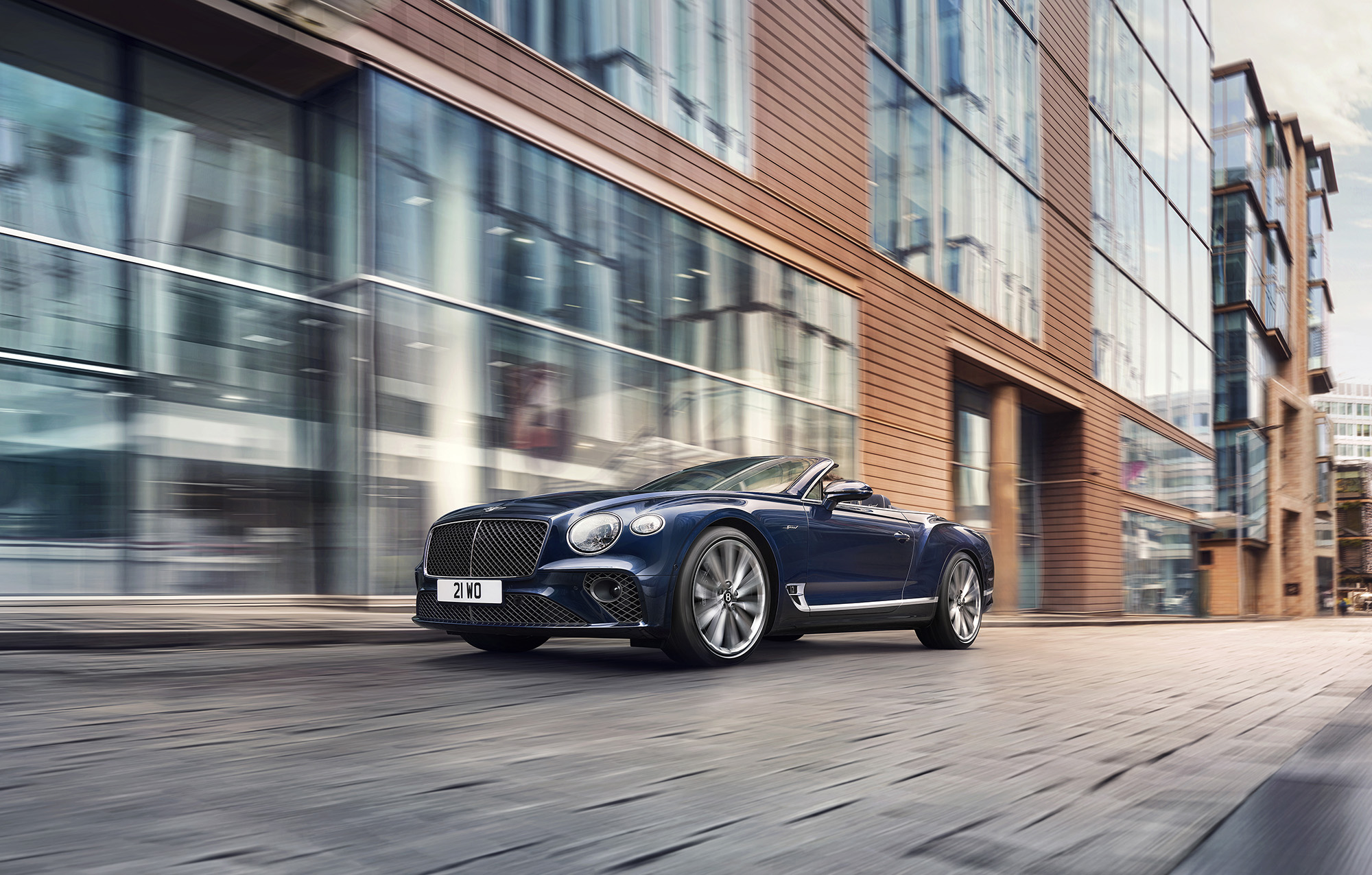 The new Bentley Continental GTC Speed is born to thrill. Powered by an immense W12 engine and a specially calibrated powertrain, it puts 650 brake horsepower at your disposal, turning open-air grand touring into pure driving excitement.
Its dramatic convertible design is enhanced with exclusive Speed details to create an aggressive and athletic style that is as bold with the roof up, as it is irresistible with it down. And whichever you choose, you can experience the pure joy of living in the moment with every drive that follows.
This is the thrill, distilled.
Thrillingly powerful. Powerfully thrilling.
Throw yourself into the journey with the most powerful luxury grand tourer of the Continental GT range. Its formidable W12 engine has been uniquely calibrated to maximise the thrill, and this fine-tuning results in an incredible 0 to 60 mph time of just 3.6 seconds (0 to 100 km/h in 3.7 seconds) and a top speed of 208 mph (335 km/h).
Exhilarating. And then some.
The GT Speed Convertible has been engineered to deliver a powerful and engaging drive that never fails to put a smile on your face – whether you're basking in the sun on an open-top tour or cocooned away from the elements with the roof up.
Enhanced stability, control and agility are created by the coming together of innovative technologies such as Electronic All-Wheel Steering, Torque Vectoring by Electronic Limited Slip Differential (eLSD), and the Bentley Dynamic Ride electric active roll control system. This allows you to navigate corners at speed and unleash maximum power along open straights, with the GT Speed maintaining a confident footing at all times.
Optional Carbon Ceramic brakes, derived from the application of aerospace technology, offer immense stopping power no matter where you touch down on your open-top grand tour, while their striking black or red finish ensures that the thrill continues even after they've brought you to a standstill.
Welcome to sport mode
The new Continental GT Speed reveals its full, exhilarating potential in the adrenaline-pumping, specially calibrated Sport driving mode. Rapid transmission shifts keep the engine in the power band at all times, which means that it eagerly responds to your every command – any time and at any speed. An emotive exhaust note adds a soundtrack that alone has the power to set your heart racing.
An irresistible aesthetic
Substance is nothing without style – and the breathtaking exterior design of the Continental GT Speed Convertible shows that both can be enjoyed in equal, exciting measure.
A dramatic and compelling presence is heightened by the bold forged Speed 22" wheel – available in a Silver Painted, Black Painted or Dark Tint finish – and a captivating Dark Tint Grille. Exclusive badging and a Speed Outer Sill, along with an illuminated treadplate, Jewel Fuel and Oil Filler Caps, add a distinctive touch of luxury to complete the look.
A world of your choosing
Just as substance meets style, power meets versatility. The retractable roof's elegant form enhances the satisfying contours of this phenomenal grand tourer when up, giving you a cosseting space in which to travel. When down, the Speed's silhouette takes on a freer form that encourages you to interact with your environment exactly as you desire.
And you can crown your car with a selection of inspiring hood colours, including Black, Dark Grey Metallic, Claret, Tweed, and more.
A cabin with a view
Whether the roof is open or closed, the dramatic interior is designed to completely immerse you in the drive ahead. The elevated status of the Speed is demonstrated by embroidered headrests and exclusive Speed badging on the fascia. Sports Pedals, a heated Alcantara steering wheel and a unique colour combination in Hide and Alcantara show that the thrill of discovery can be found in every detail, no matter how small.
Bentley rotating display
Something exciting happens when craft and design blend seamlessly with technology. And it's called the Bentley Rotating Display. With this option, you can choose the display that suits your journey. Select from the simplicity of a polished veneer panel, or a digital display for all your infotainment needs. Or go with a trio of diamond-knurled analogue gauges for a classic and timeless look.
Cutting-edge Grand Touring
Draw immense pleasure from the seamless integration of the latest technologies in the new Continental GT Speed. When travelling far from home, the Touring Specification gives you the ease and safety you need – including Active Lane Assist, Night Vision, a Head Up Display and Adaptive Cruise Control.
Naim for Bentley sound system
The Naim for Bentley sound system lets you enjoy your music like never before. It immerses you in the soundtrack of your choosing with 2200W of power channelled through 18 speakers and 2 shakers.
An extraordinary connection
The Continental GT Speed is the most advanced grand tourer Bentley has ever made. And now the My Bentley Connected Car services revolutionise your connection with it to ensure you can make the most of every single journey.