CONTINENTAL GT MULLINER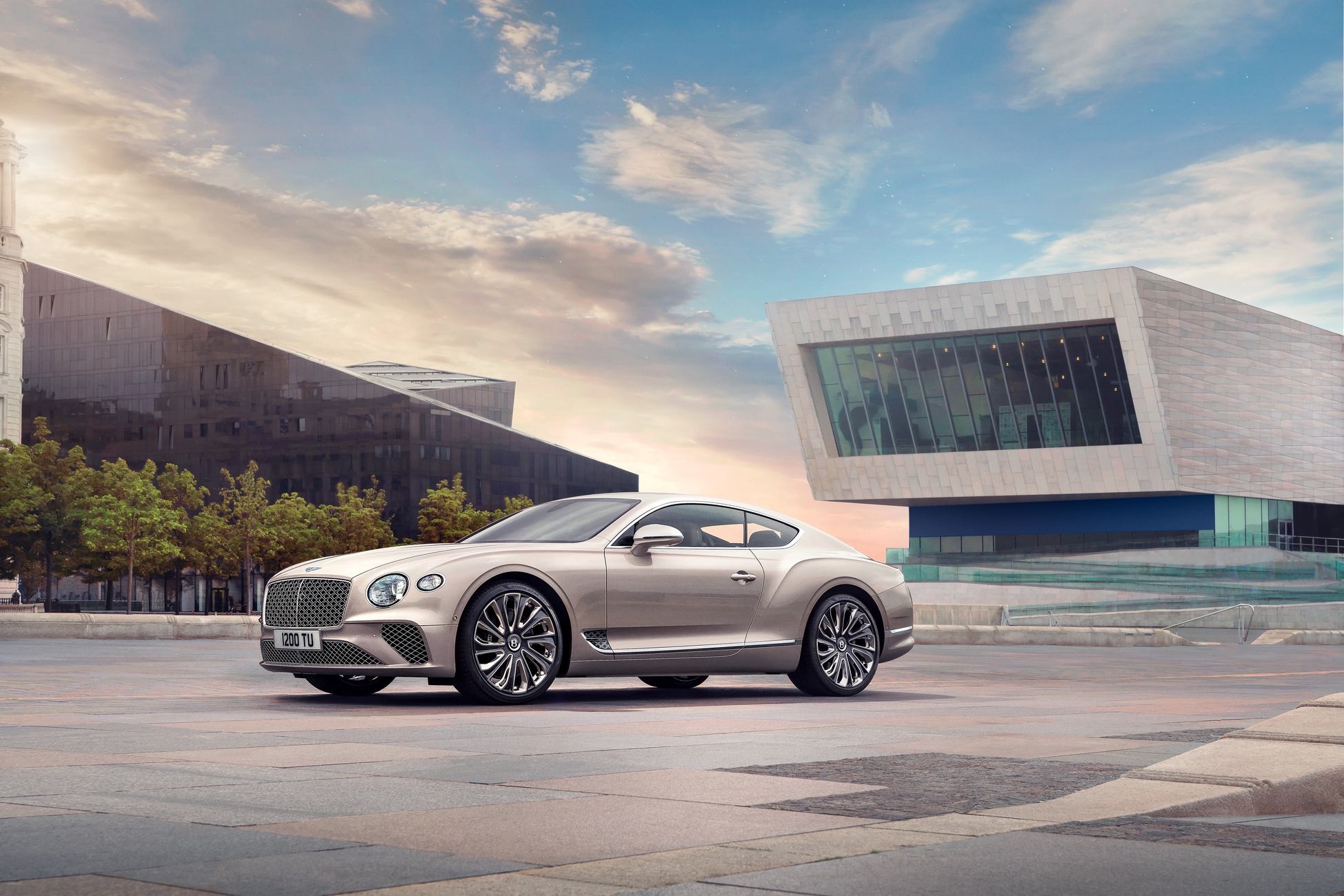 Luxury, refinement and craftsmanship of exacting standards are combined to form this rare and exclusive vehicle. The Continental GT Mulliner is handcrafted by the oldest automotive coachbuilders in the world: Bentley Mulliner.
Built in Crewe by our passionate engineers and experts, it harnesses the sleek and superformed lines of the Continental GT . With an array of enhanced features and bespoke tailoring options that deliver heightened, ultra-luxury grand touring, you have the opportunity to own a car as individual as you.
Contemporary craftsmanship
Every element of the Continental GT Mulliner is handcrafted and designed to yield great satisfaction in even the smallest details. Emblazoned on the Grand Black Veneer fascia is an overlay of the vehicle silhouette – a symbol of its exclusivity within the Bentley range, and a charming detail that instantly catches the eye. Chrome Bentley 'B' overlays in the waistrails and a captivating all-new Diamond Milled Technical Finish on the centre console are unique to the Continental GT Mulliner creating an intricate dashboard that is so striking, it stirs the senses.
Enhanced inside
With eight exclusive seating and trim colour combinations, each with a unique 3-colour split, the interior of the Continental GT Mulliner has been expertly curated by Bentley Mulliner's artisans . These captivating colourways are inspired by the world around us, from luxurious French fabrics to prestigious sporting destinations. The Cambric colourway, for example, features hides of Beluga and Linen with a refined Gold accent for a tri-tone combination, evocative of summertime in the south of France. Equally as impressive is Pavilion, a homage to the sport of cricket, with Cricketball and Linen hides, complemented with Silver accent hide and stitching. The addition of this accent stitch provides a new depth of character to the Continental GT Mulliner, showcasing the painstaking attention to detail and handsewn elements. To explore all the possible colour combinations, including Amalfi, Ascot, Flare, Sterling, Sirius and Sienna, visit our online Configurator.
In addition, deep pile Mulliner floormats featuring contrast micro-piping and chrome Bentley 'B' retention caps establish a harmonious flow from the ground up. The result is a welcoming space that envelops drivers and passengers in sumptuous comfort and refinement, making every journey a truly memorable experience.
The brand-new driver's instrument panel features an exclusive brushed metallic finish and newly styled dials. Together, they create a fusion of digital and analogue which is reflected in the Breitling for Mulliner Clock Face – a timepiece so intricate, it could be a piece of jewellery. This balance of innovation and bespoke design creates a harmonised cabin for a truly immersive experience – an aspect which is further enhanced with invisible and seamlessly integrated Air Ionizers that improve the air quality within the car to elevate your sense of wellbeing as you travel from one destination to the next.
Distinctive outside
The sculpted body of the Continental GT Mulliner is made even more distinctive through exclusive Bentley Mulliner detailing, such as branded wing vents denoting its elevated and rare status. The car's superformed lines evoke a sense of speed, reinforced by the painted mirror caps in Satin Silver for a streamlined two-tone design that draws the eye across the sleek and muscular profile of the car, captivating anyone in its presence.
This grand tourer's phenomenal power is also evoked with the addition of new, painted and polished 10-spoke 22" Mulliner Wheels. Their duo-tone finish creates depth to the contours of the wheel, while the self-levelling wheel badge means that even while you are travelling at speed, the Bentley 'B' remains upright and instantly recognisable.
Crafted by Mulliner. Customised by you.
The signature craftmanship of Bentley Mulliner is apparent throughout this consummate vehicle, with a level of detail that has the power to surprise and delight. From mood lighting and illuminated sill plates that bear the Mulliner name, to hand-stitched headrests, embroidered with the distinctive accent colour of your chosen interior colourway, every inch is luxuriously refined and considered. This is echoed in the 3-colour, handcrafted presentation box which houses the keys to your car upon purchase in two leather key pouches– a memorable keepsake.
However, it is your individual touch that makes the Continental GT Mulliner complete. From colour splits and paints to mood lighting curated by you, this car represents your personal taste and style. Once configured, you can bring your dream car to life, resulting in the rarest expression of your own unique vision. This isn't just a car, it is a part of your world, allowing you to travel without compromise, and in complete luxury.
Power defined by you
The V8 can reach 0 to 60 mph in 3.9 seconds (0 to 100 km/h in 4.0 seconds) before powering on to a top speed of 198 mph (318 km/h).